Shopping Cart
Your Cart is Empty
There was an error with PayPal
Click here to try again
Thank you for your business!
You should be receiving an order confirmation from Paypal shortly.
Exit Shopping Cart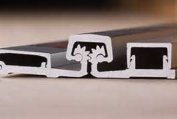 Something that is so simple is a solution to so many frame/door opening problems. It all starts when a framer goes to install a door frame and installs it out of plumb & out of square. This can happen for so many reasons such as adding to much mortar or an over cut in in base/chair railing or just plain lack of attention. Now the symptoms of a door hitting the frame due to a sagging door or the latch bolt won't engage the strike due to sagging, the door hits the header of the frame & while all this is happening the very expensive hardware is being stressed to the max and never will meet warranty criteria. Now, instead of tearing out the frame and re-engineering the entire opening you just remove the existing hinges most commonly 3-Hinges 4 1/2" x 4 1/2" which is common in commercial construction and install the full surface continuous hinge. You remove the door and set it up on a pair of saw horses, install hinge fillers on both frame and door, you follow the simple instructions and install the door leaf side of the continuous hinge first, place shims on the floor for your door undercut, insert door into the opening, assure all your gaps are correct @ the header, strike side and undercut and screw the other leaf of the continuous hinge to the frame and what you now is a fully functioning door opening. For mere hundreds of dollars you have solved a problem that could have cost thousands which we at Apex Doors main goal is to save you money and have a major problem solved adding longevity to all your materials working at peak performanc.
/